Menu
About Us
Fischer Jewelry Designs
For the made-to-order moments in your life.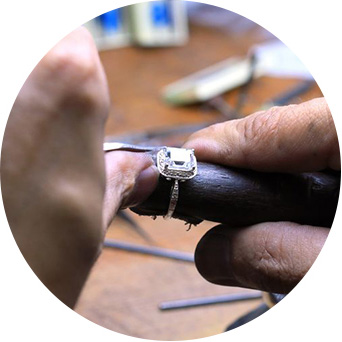 David Fischer of Fischer Jewelry Designs had a vision. He long felt that every bride deserved to look radiant on her wedding day. That wasn't a reality for far too many brides in his opinion, since most of the high quality bridal jewelry was simply not affordable for most.

David then set upon a mission to make gorgeous bridal jewelry available at reasonable prices. He didn't want to compromise on quality or style, so he set about travelling the globe to purchase the very best materials from the very best sources. He also hired a team of top notch designers so that he stayed in touch with fashion trends of the customers, fusing modern design with traditional classics.

David frequently attends international trade shows to purchase excellent quality diamonds and precious stones, and sends the materials to our state-of-the-art manufacturing facility.
Each and every piece is then handcrafted to perfection. Our motto is "No bride should have to choose a ring she doesn't love". We specialize in customizing our jewelry to fit our customer's specific needs.
If you can dream it, we can create it!
Whether you are a new bride or looking to remount your ring for that special occasion, Fischer Jewelry Designs will always dazzle!